I was recently sent a review copy of Anglerfish — a 2022 indie horror game by Professional Villains — and I played it all the way through! John and Maria, Anglerfish's creators, were very clear that they would appreciate honest feedback, good or bad (how refreshing!!) because they're constantly striving to get better at their craft.
With so many video game-related disappointments in recent years (who else pre-ordered Cyberpunk 2077 and Pokémon Scarlet? Oof!), did Professional Villains' Anglerfish add to the pile of "Wow… They really shouldn't have released this yet" or did it rise above and stand out as a game that actually works as a game? Was it fun, challenging, and functional?
More importantly: As a horror game, did Anglerfish bring the terror??
Become a Patron!
Anglerfish Review (No Spoilers!)
Anglerfish is an action-adventure psychological horror video game done in an old school slightly pixelized cartoony style. If you're a fellow "old timer" like I am (I was a Sega Genesis kid), Anglerfish will feel both modern and nostalgic.
There were times when I was reminded quite a bit of 1988's Ghouls 'n Ghosts (especially towards the end; *ahem* "IYKYK," as the kids say) while in other moments I went "Oh wow. They couldn't have done that back then!"
After a short set-up, you — a handsomely bearded fellow in a Japanese schoolgirl uniform — head to the Anglerfish bar with your friends for a bachelor party. The groom has issued a challenge to you and the rest of his buds: The pal who grabs the most phone numbers from gals at the bar by the end of the night gets to be his best man!
So, you start on your quest to chat up the ladies at the Anglerfish and gather their digits! It's a goofy setup for Hangover-esque comedy shenanigans.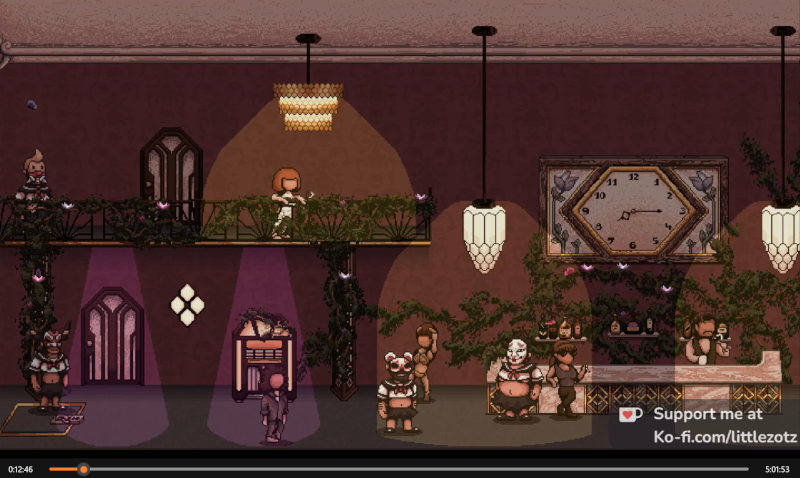 But, at Midnight, your evening at the Anglerfish takes a From Dusk 'Til Dawn style genre twist and you're forced to pick up a shotgun (your one and only weapon in the game!) and fight your way out of the now nightmarish bar.
Filled with references to both horror movies and video games, Anglerfish is a fun ride. It only saves when you die (and you die a LOT — like, we're talking "FromSoftware" levels of dying repeatedly but with more cheeky winks and less "I guess learning every single nuance of this game is my life now or I'll never finish it"). Anglerfish is very fair with its challenges, even when it puts you in seemingly impossible situations. It has easy-to-learn mechanics and smooth gameplay. And although you'll find yourself repeating the same areas again and again, they're always juuuuuuuuuuuust different enough to never be boring (every time you die, the game saves… and something changes).
As a horror game, Anglerfish has a little of everything. Jump scares were rare in my playthrough (thank goodness; I dislike being startled), but there were still plenty of surprises. Professional Villains' had a lot of fun playing with shadows, music/sound, and different types of fear. There's monsters, there's gore, there's dread, there's just plain weird… You never truly know what's going to happen next. And, to quote ol' HP Lovecraft: "The oldest and strongest emotion of mankind is fear, and the oldest and strongest kind of fear is fear of the unknown."
Playing style, choices made, and various other factors make for good replayability and a unique experience for each player. Anglerfish is a very short game (my from start-to-finish playthrough took me just shy of 5 hours and it would undoubtedly take a skilled player even less time), but the experience will stick with you.
Professional Villains intends to roll out additional updates to extend the gameplay and replayability on a set schedule — with bonuses for players who were with the game from the start! I had mixed feelings about this marketing strategy initially, but the in-game explanation for it (if you play Anglerfish through to its current ending) was ultimately such a funny commentary on the video gaming industry that now I'm just looking forward to seeing what they do next.

I originally took a ton of screenshots from my playthrough and intended to go even more in-depth with this review, but I think I'll end it here instead. The best thing about Anglerfish is its sheer unpredictability and sharing anything beyond the bare minimum would cheapen the experience for interested players. As one of the characters in the game says: "It is when our expectations are broken that we feel life the most."
I will share ONE spoiler: You get to pet the dog. Though, if your playthrough is like mine was, it won't be the dog you think. 😉
Check it out!! Anglerfish (2022) is currently available on Steam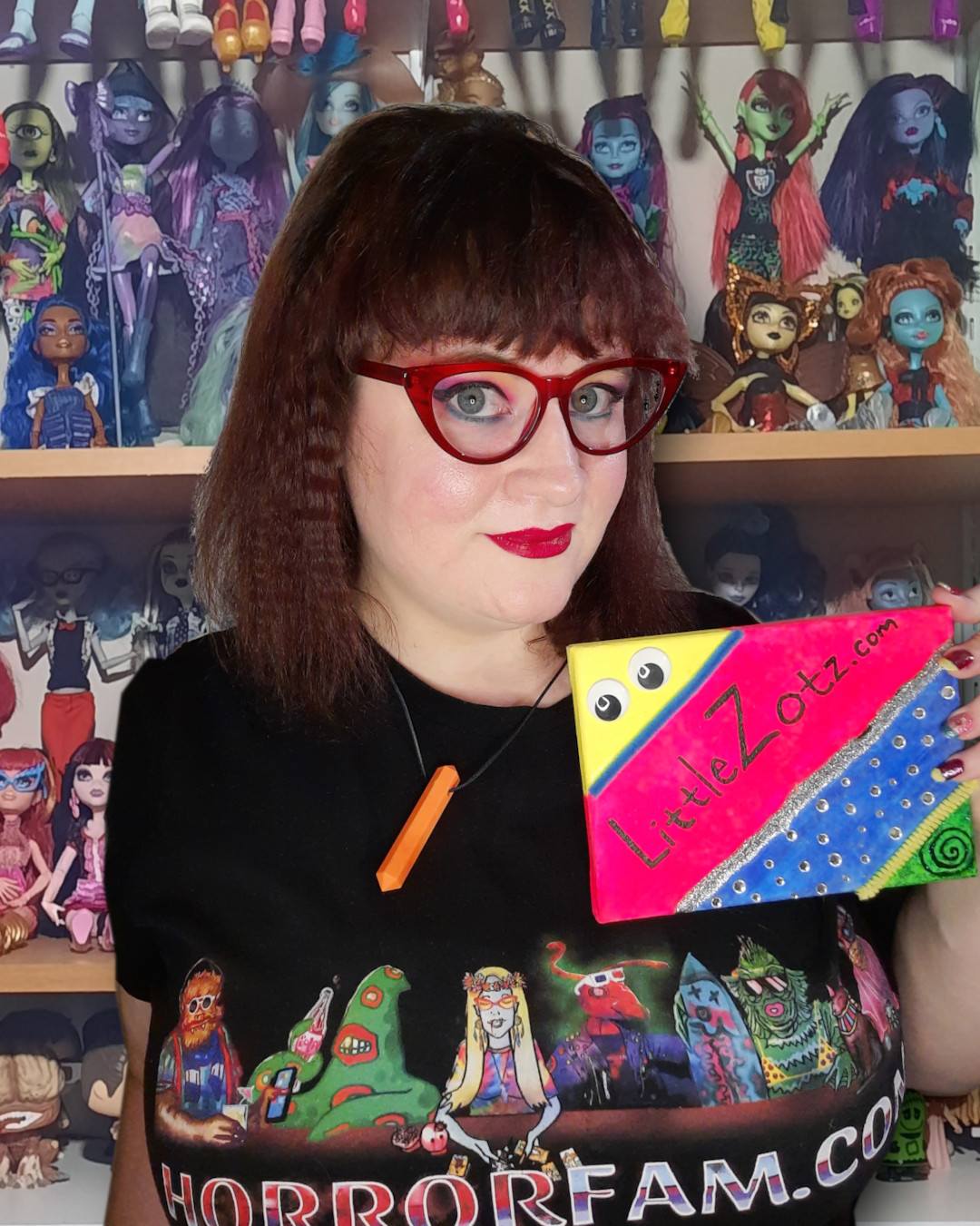 Lauren Spear (née Tharp) is the owner of LittleZotz Writing, a super-respectable multiple award-winning website for freelance writers. She's also the HorrorFam.com founder! Lauren grew up in the horror industry (her parents did practical special FX work for many of the horror movies you love from the '80s and '90s) and basically created this site so she could freely gas on about creepy stuff and stop having to pretend to be normal.