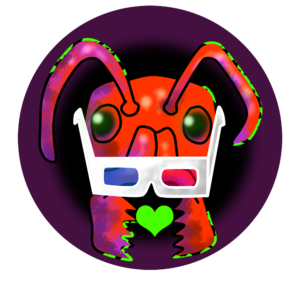 Hi there! My name is Lauren Spear and I'm the initial founder of HorrorFam.com!
I wanted to create a horror-focused website that harkened back to the sites I visited in my youth — a time when most horror-loving folks were truly stoked on the genre. 
I wanted to create a "family" horror website. I come from a horror family (my parents were both practical special FX artists who primarily worked in the horror genre), but my biological family is TINY. I wanted a way to connect with my "extended" (online) horror fam.
My parents, my husband, my friends-who're-now-family, and I are all very positive-minded. We sometimes grump or lovingly tease or offer constructive criticism... But we're never cruel. Although the horror movies we love so deeply feature some hardcore baddies — we strive to spread kindness.
HorrorFam.com where horror fans can come to be embraced by a loving "family" vibe. We lay on the feel-good nostalgia, we goof around and make (sometimes terrible) jokes, and we wholeheartedly welcome all our fellow weirdos to join us at the table and share their horror-lovin' thoughts!
We share written blog posts every Tuesday and audio podcasts (with full transcripts for the hard of hearing) every Saturday!
There are already a ton of horror "news" sites for upcoming features. And they do a fantastic job! So, HorrorFam.com's content doesn't focus on horror "news" (with one exception; detailed further below). It's a hodgepodge of nostalgic topics in the horror genre, mixed with subjects loosely tied to "horror" as an idea/feeling/lifestyle.
Plus, as a freelance writer with over a decade of experience, I knew the blog could provide something else: Portfolio clips for writers looking to break into the industry.
By accepting guest posts (writer submissions), HorrorFam.com gives newbie writers looking to break into the horror genre (as well as veteran writers who're looking to switch niches; or simply do some "just for fun" writing!) a way to get published pieces under their belts. Dealing with me is usually (hopefully?) far less intimidating for writers than approaching the Head Editor of a more prestigious/established publication.
Finally, and most importantly, I wanted HorrorFam.com to focus on the wonderful weirdos, the "mutants," and the creepy creators who love the genre.
Creating a place for like-minded "fiends" to have some horrifically good fun was the number one goal. Not far behind, I wanted to shine a spotlight on the "little guy" creators – the everyday people who actually produce horror-related indie films, YouTube videos, podcasts, artwork, comics, novels, music, clothes, toys, masks, etc.
It's Wonderful (note the capital "w!") that the horror industry has had a surge of "mainstream" success recently; however, there are SO many people who create AMAZING things who lack the funds necessary to get eyes on their creations. Those lovingly-crafted "monsters" end up withering on the table and their creators never have that "It's ALIVE!" moment because they lack the social "lightning" needed to succeed…
So, HorrorFam.com is dedicated to connecting with indie horror creators. We feature their work via articles and podcast interviews to their work via blog articles and podcast interviews so they'll have an opportunity to promote their projects to a built-in audience who LOVES horror. This sometimes includes, as the exception to the "we're not a 'news' site" rule, creators' upcoming projects and events.
In short: HorrorFam.com was built so people who love the horror genre could find each other and have fun together.
Welcome home, Fam!
Who's Responsible for This?!
Meet HorrorFam.com's Four Founders: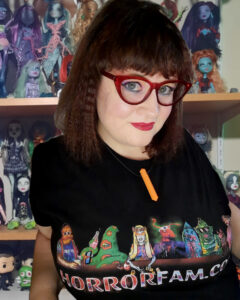 Lauren Spear -
Editor/Writer/Podcast Host
Lauren grew up in the horror industry and never grew "out" of it. The only child of two former FX artists, Lauren is a "Monster Kid" through-and-through. She created HorrorFam.com primarily so she'd have likeminded people to chat with who wouldn't think she's creepy >_> Her husband and best gals loved the idea (they're also "creepy" hahaha) and jumped on to help from Day One!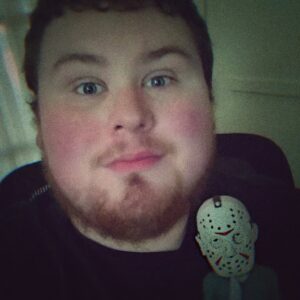 Frank Spear -
Writer/Supportive Husband/Horror Fan
Frank's the reason Lauren's last name is "Spear" — they're married! Frank's a talented freelance writer, and shows off his skills occasionally on the blog. He loves the horror genre (especially video games), and is super stoked to be a part of this!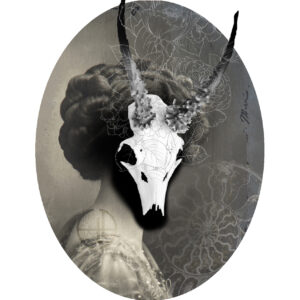 Heather Landry -
Illustrator/Writer/Dreamweaver
Known online as SandpaperDaisy, Heather's been a diehard horror fan since birth (give or take a year). She's HorrorFam.com's official illustrator, is always willing to brainstorm article ideas, and helps Lauren live the "dream" of owning a horror site. (She's also a horror novelist!)
Christi Bandy -
Writer/HalloQUEEN/Heroine
Longtime friend of BOTH Lauren and Frank Spear's (and Lauren's Maid of Honor!): Christi Bandy is a horror devotee, one seriously busy freelance writer, and a devoted mother (two human kids and several cats)! But, whenever Lauren's taking the fast train to Burnout Town, Christi swoops to her rescue with emotional support and amazing articles! ♥