We have a Society6 page that sells shirts and stickers and whatnot with our HorrorFam.com "family" of monsters on 'em, designed by our co-founder, Heather Landry.
Here are a few of the items we're selling in our Society6 store (there are more on the actual site!):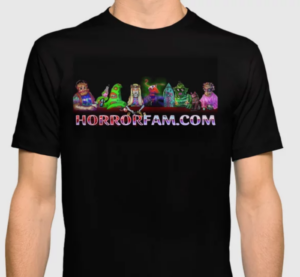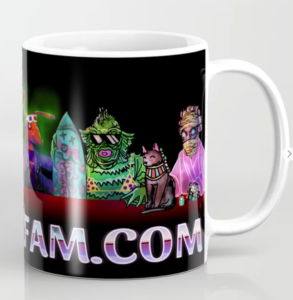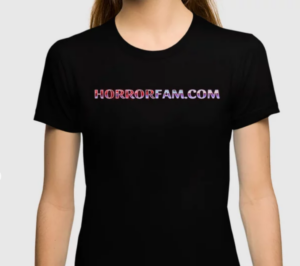 Redbubble is rad. They have a wider variety of items (and shirt sizes!) available.
Here are a few of the pieces in our Redbubble store (more on the actual site!):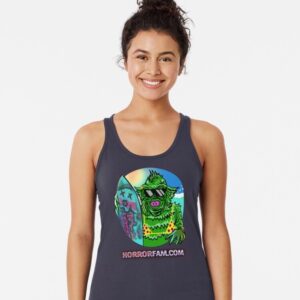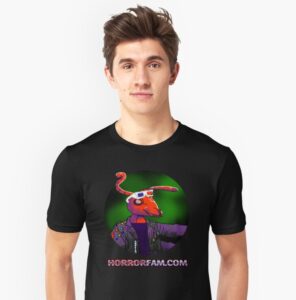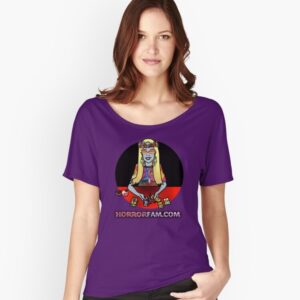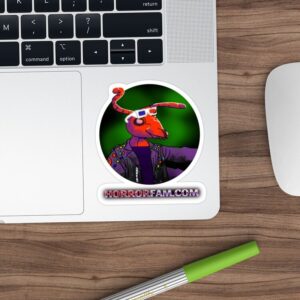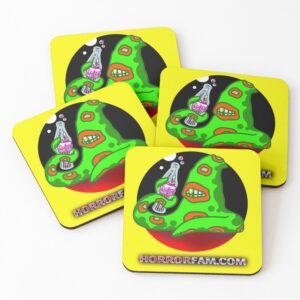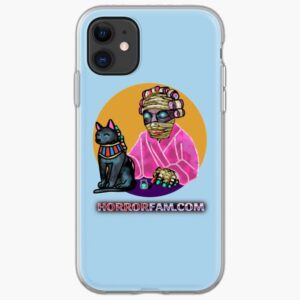 If you buy/wear/use any of our merch and decide to show it off online, please tag us on Twitter or Instagram (@LoveHorrorFam on both accounts) so we can see how fabulous you/your stuff looks! 🙂
Affiliate Brands/Sponsors
Audible
Love books but no longer have time to read them manually? We feel you! That's why you're extremely excited to have Audible as one of our podcast sponsors + affiliate brands!
By using our special link — AudibleTrial.com/HorrorFam — you can give Audible a spin for FREE for 30 days. Plus, you get to download one FREE audiobook that you can keep for LIFE, even if you decide to cancel your subscription after your free trial ends.
We've been Audible subscribers ourselves for years now and we love it! Frank Spear (Lauren's husband/HorrorFam.com co-founder) and Rob Tharp (Lauren's father and former horror FX artist!) both use Audible daily. Rob shares his most recent Audible recommendations whenever he appears on the HorrorFam.com Podcast!
Not into books? No problem. Audible has FAR more to offer than "just" audiobooks — it has ALL forms of audio-based entertainment; including theatrical performances, podcasts, news digests, guided meditations, and more.
Best of all, if you sign-up for Audible using our link — AudibleTrial.com/HorrorFam — you'll be helping to support HorrorFam.com at zero additional cost to you.
I found out I needed eyeglasses about a week before my 16th birthday. I was mega bummed. I was finally "dating age" and I had to wear glasses?! Boo! Hiss!
I kept thinking about Marilyn Monroe's line from How to Marry a Millionaire: "Men are not attentive to girls who wear glasses."
Plus, glasses back in my day were pretty uggo. And expensive. Not a great combo.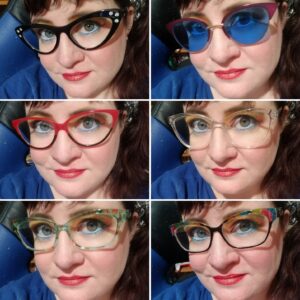 Then, along came GlassesShop.com! Suddenly prescription eyeglasses were incredibly affordable and hella cute.
I got my first pair for free (using promo code FIRSTFREE — they've been using that code for years now and it still works as of this writing!) and then... I bought a ton of additional pairs.
I have regular prescription eyeglasses, prescription sunglasses, and prescription blublocker lenses. I'm hooked!
I've been recommending them to glasses-wearing buddies for years now. I adore them. I want them to stay in business forever. They have frames starting at $6.75! Like...what?! The last time I bought glasses from an optical store, the frames cost $150 and they weren't nearly as stylish.
Plus, GlassesShop.com almost always has BOGO free sales going on. Just check their Deals page. My husband got his glasses there (normal eyeglasses and some blublockers with super-nifty flexible frames) using a BOGO deal and only paid around $35 total!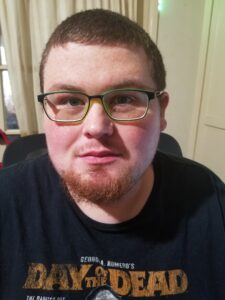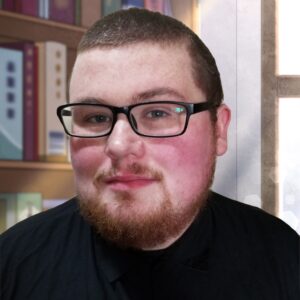 Eyeglasses don't have to boring, ugly, or expensive. I highly recommend GlassesShop.com!
Don't wear prescription lenses? They also sell reading glasses and fashion glasses. They're fantastic for cosplayers! And with so many horror characters who wear glasses (Will Graham from Hannibal, Barbara Crampton's Dr. Katherine McMichaels in From Beyond, the "fishboy" from House of 1000 Corpses, etc.), GlassesShop.com can help you find the finishing touch for your ultimate Halloween costume — especially with their new Vintage line-up!
Plus, if you buy your specs using our GlassesShop.com affiliate link, you'll be helping to support HorrorFam.com!