For fans of frontman Dave Grohl and the rest of the Foo Fighters, Studio 666 is a total treat. No, this movie doesn't reinvent the wheel by any means, but it's an amusing, schlocky, '80s-inspired romp for fans of rock and horror and, if you look at the history of movies in this subgenre (1986's Trick or Treat with Marc Price, Devil's Candy, Deathgasm), you'll see that horror and music are meant to be together, creating a perfect combination that's usually entertaining — with a bangin' soundtrack to boot!
Now what does Studio 666 have that those other films don't? An honest-to-God actual rock band portraying, well, themselves. This gives Studio 666 a Spinal Tap feel that works for this broadly humorous horror comedy. And supposedly, Taylor Hawkins, who didn't want to learn lines, improvised most of his dialogue!
It's an absolute hoot to see Grohl, drummer Hawkins, rock icon Pat Smear, keyboardist Rami Jaffee, bass player Nate Mendel, and guitarist Chris Shiflett trying their hand at acting with a few actual actors (Will Forte, Leslie Grossman) tossed into the mix. Also – don't Google the cameos if you want to be laugh-out-loud surprised like I was!
Studio 666: Vanity Project or Legitimate Horror Comedy?
(Spoiler: It's BOTH!)
Based on a story by Grohl, Studio 666 has been deemed by some critics as a 'vanity project'…
While that may be true, Grohl is a beloved staple in the music industry who also happens to be a super cool, laid back, smart, funny, and genuinely talented dude.
His willingness to go all the way with the Grohl 'character' in this film means that viewers are more than pleased to go along for the ride, because, let's face it, we'd follow Dave Grohl to the ends of the Earth. What's a little demon possession?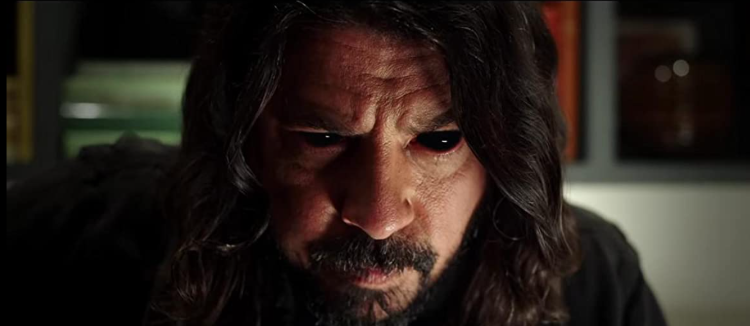 The most delightful parts of the movie come about when it feels like we're getting a glimpse into what the guys are like off-stage – inside jokes and comments, good-natured ribbing, and references rock fans will love, including some enjoyable self-deprecating humor as Grohl pokes fun at his own celebrity status. He's a natural on the screen, chewing scenery like crazy, and I'm here for it.
But What's Studio 666's Plot…?
The story itself is simple: the guys are on the hooks to put out their new album stat, as their manager pressures them to release their overdue, highly-anticipated 10th record. However, Grohl and the group are lacking inspiration and seeking a new place to record their album to give it a different vibe than previous records.
Enter the creepy old Encino house where Leslie Grossman (as real estate developer Barb Weems) takes the band to set up shop and lay down new tracks in a unique environment with great acoustics — but a slightly pesky demon issue she somehow leaves out. Turns out something gruesome transpired in the house in the '90s involving the previous band who attempted to record there.
These guys may not be actors by trade, but they are charming, charismatic, imaginative, and engaging musicians, which translates well to comedy. Grohl is infinitely watchable, with hilariously overblown facial expressions and well-timed one-liners as he descends further into demon possession.
The gore is campy, over-the-top, and awesome, which I wasn't expecting but completely thrilled me. What's even more thrilling? A surprise appearance by my (and your) favorite horror composer! (I didn't know about this beforehand, and I won't spoil the treat for you either!)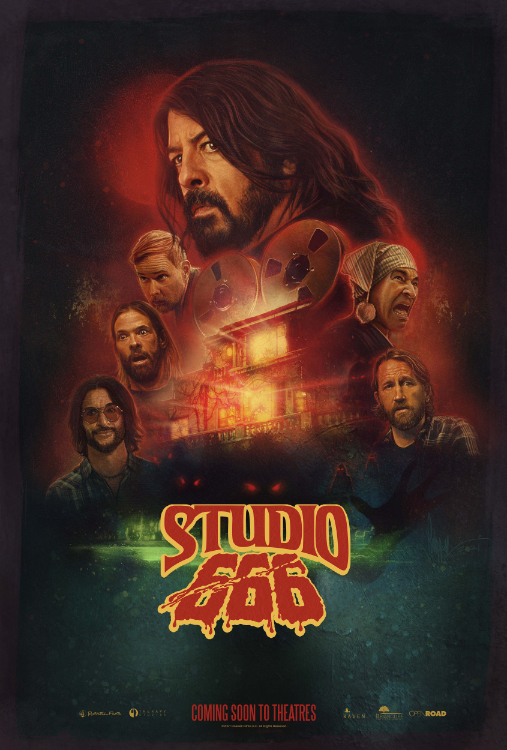 Is Studio 666 Worth Putting in Your Horror Shuffle?
Now, I will say they could have shaved about 20 minutes from this film – it got a little bogged down towards the end with the 'lore.' But it was cool to see Jenna Ortega (Scream, the upcoming Netflix show Wednesday) briefly in what would've otherwise been filler minutes.
However, overall, Studio 666 is worth a watch, and it was a pleasure noticing the references to other horror films and franchises, most notably Evil Dead.
Studio 666 is a bit of a love letter to the genre we all adore — and apparently so does Grohl (yes, guys, Dave Grohl is one of us!).
I have seen this film compared to Jack Black's hysterical Tenacious D in The Pick of Destiny (which, funnily enough, Grohl has an unforgettable role in) but, to me, that's a different experience altogether. Yes, Black is a musician as well as an actor, but Studio 666 and The Pick of Destiny really can't be compared beyond that. Just watch Studio 666 with an open mind and take it for what it is for the best experience!
Leave your brain at home, enjoy a gory Grohl gem with the sound turned up to 11, and then give all your friends a Pearl Jam high-five (you'll get that reference after you see the movie, I promise!).
Become a Patron!
Images obtained via CineMaterial and IMDb for review purposes.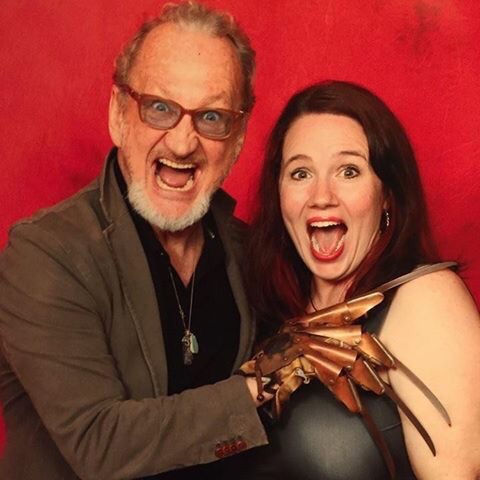 Christi Bandy has been writing and editing professionally since 2010. Her first horror movie, A Nightmare on Elm Street, began her lifelong love of horror. Christi also loves coffee, shopping, reading, tattoos, and Halloween.