Each month, I get a ton of emails about exciting upcoming horror projects and, while I'm unable to showcase them all individually, I'm absolutely thrilled to share them on the first of each month ROUND-UP STYLE! So, without further ado, here are the new & upcoming July 2023 horror creations from the HorrorFam.com inbox!
Corman/Poe: Interviews and Essays Book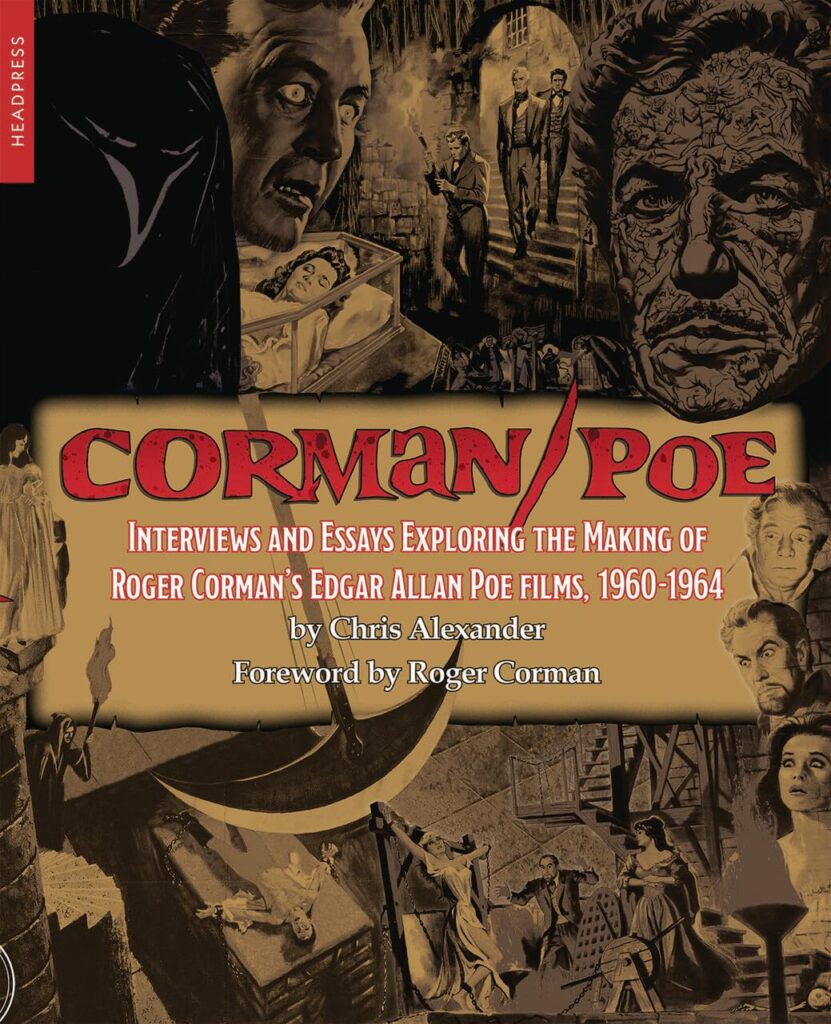 July 6th Headpress Books releases CORMAN/POE: Interviews and Essays Exploring the Making of Roger Corman's Edgar Allan Poe Films 1960–1964 – charting the making of Corman's classic and influential "Poe Cycle" of horror films, featuring a foreword by Corman, himself.
Produced on modest budgets for American International Pictures, Roger Corman's adaptations of Edgar Allan Poe's stories were peak escapist horror cinema. Starring horror icon Vincent Price and "freely adapted" by screenwriters such as Richard Matheson, Charles Beaumont and Robert Towne, this unique film series is now recognized as sophisticated take on decadent Gothic chills that also explores faith, sexuality, psychology, and the supernatural.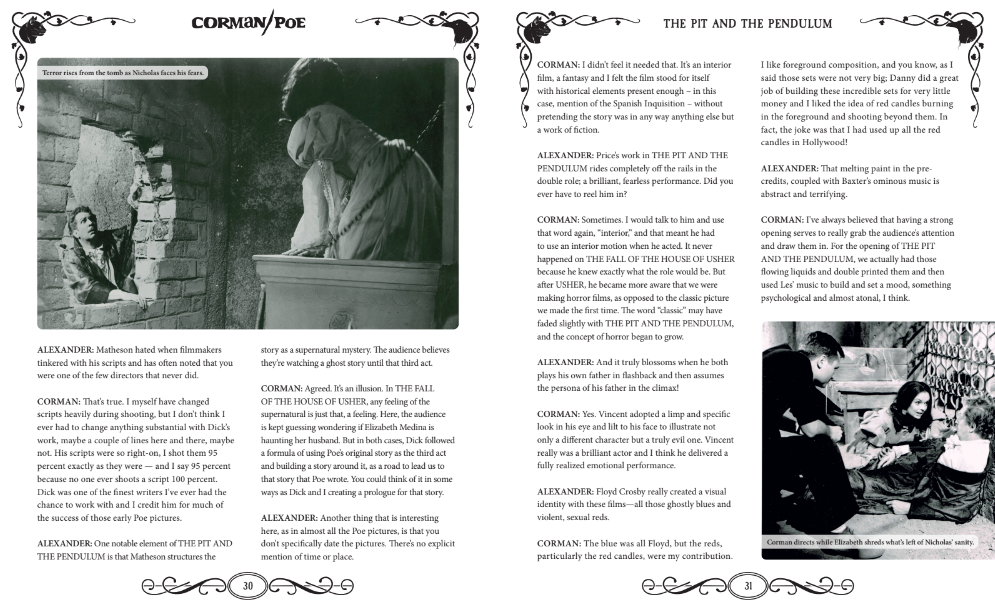 Headpress Books' CORMAN/POE: Interviews and Essays Exploring the Making of Roger Corman's Edgar Allan Poe Films 1960–1964 is written by Chris Alexander (former editor-in-chief of FANGORIA; curent editor-in-chief/co-founder of DELIRIUM magazine) with an introduction and plenty of interviews from Roger Corman himself! Most exciting of all, the book contains dozens of photographs and stills, many of which have never been published before now.
The Primevals (2023)
July 23rd Full Moon Features' The Primevals makes its world premiere at Fantasia Film Festival. The Primevals is helmed by visual effects artist David Allen (Equinox, Young Sherlock Holmes), which he scripted with fellow effects artist Randy Cook (The Gate), and was first conceived in the 1970s as a vehicle to showcase Allen's stop-motion talents.
David Allen began directing The Primevals in the 1990s under producer Charles Band; however, Allen's death from cancer in 1999 left the film tragically incomplete. Now, at long last, Band and longtime Allen associate Chris Endicott (Avengers: Infinity War, Spider-Man: Homecoming) have seen the film to completion, and it's emerging as a glorious tribute to the classic films of Ray Harryhausen that no monster kid or traditional special-effects fan will want to miss!
Feardemic's Apartment
Horror games publisher Feardemic has started a podcast called Feardemic's Apartment where Łukasz Kostka interviews big personalities from the indie horror game dev scene.
Łukasz Kostka has his own YouTube channel and is already well-versed in how to create amazing interviews with horror video games' creators. Both Feardemic and Łukasz are excited about this new interview series and hope you'll check it out!
Skinford Death Sentence
July 18th, Skinford Death Sentence arrives on VOD & Digital. Written and directed by Nik Kacevski with additional writing by Tess Meyer, this 85-minute horror thriller stars Joshua Brennan, Charlotte Best, and Goran. D Kleut.
PUBLISHER'S SYNOPSIS: "British con artist, James "Skinny" Skinford's plan to steal and flip a mystery truck to save his sick father is disrupted when he's kidnapped by a former mark. Forced to dig his own grave, Skinny unearths an immortal woman whose touch can grant immortality. As he and his new companion are thrust into a scheme of unparalleled mayhem, the promise of immortality and a big payout draw him deeper into the criminal underworld, bringing him face to face with its most depraved deviants."
The Breach
July 11th, The Breach becomes available on Digital and VOD. Directed by Rodrigo Gudiño with a screenplay by Ian Weir and Craig Davidson, Based on "The Breach" by Nick Cutter, this 92-minute July 2023 horror film features cinematography by Eric Oh and music by Slash!
Featuring an all-star cast including Allan Hawco (Republic of Doyle, Tom Clancy's Jack Ryan), Emily Alatalo (Spare Parts), Natalie Brown (The Strain, Dark Matter), Mary Antonini (Revenge Delivered), Wesley French (Vikings, Tribal), Adam Kenneth Wilson (Assassin's Creed Valhalla, Shadow Hunters), and Alex Lifeson (the guitarist for RUSH), The Breach is about a soon-to-be-retired Chief of Police how has to invesigate ONE LAST CASE… What could possibly go wrong?!
Back 2 OmniPark: A Horror Anthology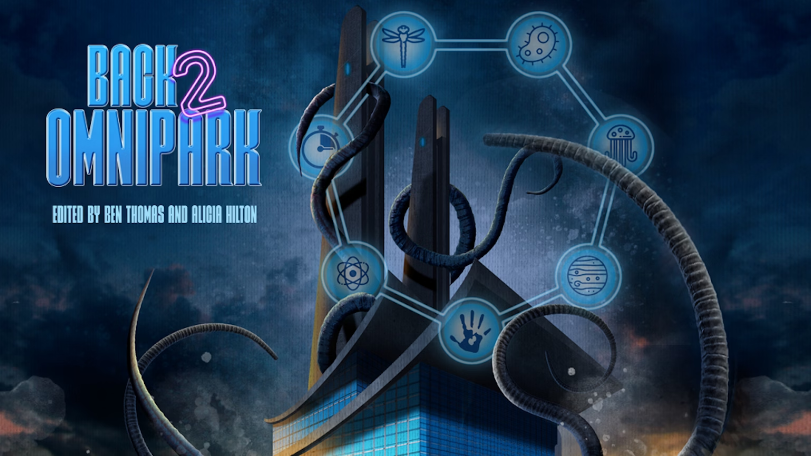 From editor Alicia Hilton: "I edited Back 2 OmniPark with Ben Thomas, an anthology of never-before-seen stories from Jonathan Maberry, Laird Barron, Oghenechovwe Donald Ekpeki, Hailey Piper, Kristi DeMeester, Brian Evenson, Gwendolyn Kiste, John Wiswell, A.C. Wise, John Palisano, Angela Yuriko Smith, Jess Bullington, Brent Winter, Brad Kelly, and Maxwell Ian Gold."
If you'd like to help fund this project, check out the Back 2 OmniPark: A Horror Anthology Kickstarter Campaign!
Afterdream
Afterdream is a dream-like 2D psychological horror adventure from developer Jesse Makkonen where you'll have to use a special camera to navigate through a mansion filled with ghosts. Afterdream is coming out the 3rd quarter of 2023 (sometime between July 1st and September 30th) on Nintendo Switch, PlayStation 5, and the Xbox Series X|S.
Give Those July 2023 Horror Projects Some Love and Come Back on the 1st for More!
Those are all of the new & upcoming horror projects that ended up in my inbox for July!
If you'd like to have YOUR horror creation show up in next month's roundup post, be sure to send me an email and/or send me a message on "X"/Twitter or Instagram (@LoveHorrorFam on both platforms) by July 25th.
Come back on August 1st for next month's HorrorFam.com inbox roundup! ♥
Become a Patron!
Images used were provided by their respective owners and used with their permission.