"A local legend gone haywire. A small-town cop. An impossible eyewitness testimony. Which is easier to believe—that killer mermaids exist, or that one person is worth risking everything for?"

The Reyes Incident (cover blurb)
The Reyes Incident is the latest book from horror author and playwright Briana Morgan. She has several other horror works and short stories in anthologies. It's also worth noting, in honor of Pride month, that Briana is a member of both the disabled and queer communities.
Now let's talk about killer mermaids, a lesbian cop, found footage, and an unreliable narrator. These are all elements presented in this story. If that doesn't sell you, then perhaps the books gorgeous trailer on the author's website will! (It's what drew me in!)
The Reyes Incident Plot
Sergeant Andie McCollum is about to get the most bizarre eyewitness testimony of her career. After getting reassigned from a theft case by the police chief (who also happens to be Andie's father) Andie's sent in to interview Liv Reyes, the sole survivor of an exploration gone wrong.
The dynamic between the characters in the retelling of the failed expedition are very well-written and realistic. Liv and her four friends are on a quest to film footage of an old abandoned military bunker that's been flooded. You have three adventurous males, Ryan, Alex, and Ben; and two camera women, Liv and Claire.
The relationship between Liv and Claire was especially interesting to me. Claire is new to the group and took Liv's place as the group's camera operator when Liv was away. Now Liv is worried that she will be permanently replaced and is out to prove herself on their latest journey.
The quintet has no trouble finding the bunker, but get more than they bargained for when they run into a trio of sirens.
These are not your typical idea of seductive sirens that appear as beautiful women luring sailors into their doom — these creatures never try to hide their true form, and that's what I loved about them. These mermaids are extremely terrifying and much closer to what you'd envision coming out of a deep-sea nightmare.
Things take a very twisted and nasty turn here. As a gore hound, this was one of my favorite parts of The Reyes Incident. Author Briana Morgan did not cheat us out of the brutal details!
After hearing Liv's tale, Sergeant Andie McCollum decides she has to know more. She puts her career and her relationship with her wife, Joy, on the line to get the true story.
A Perfect Horror Beach Read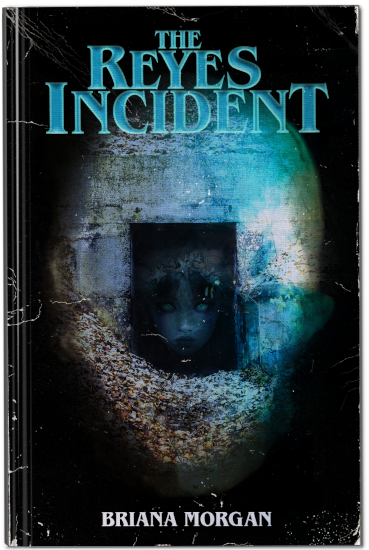 I loved following Sergeant Andie's emails and police reports as she dived into the sirens' lore herself. The narrative was very well done. Sergeant Andie McCollum is a character with many layers and those layers are woven together very well with the ultra violent creature story.
The themes I picked up on most in The Reyes Incident were seduction and love. Page after page is filled with Briana's engaging prose that will keep your nose glued to the page or screen (paperback vs eBook). My only problem was, when it's over, it leaves you wanting more (I'm sure I'm not the only one who wants a sequel).
As for the book's length I blew through all 150 pages in two days which, ironically, makes it the perfect beach book! Although, fair warning, The Reyes Incident has the "Jaws" effect: you'll feel wary of heading into the water after reading it on your summer vacation.
I really hope we see not only more killer mermaid/siren stories after this, but more stories with well-written LGBTQ characters, be sure those are two things there will never be enough of.
I recommend heading over to Amazon and snatching The Reyes Incident up right now; or better yet, go to Briana's website and get yourself a signed copy. Then add her to the list of authors whose next work you should be watching out for!
Become a Patron!
Update: Full-Cast Audio Book
Just after writing this review, I was made aware that Briana Morgan launched a Kickstarter (ends July 15, 2022) for a full-cast audio book version of The Reyes Incident! I asked Lauren if I could include it in my review and she said "of course!"
I truly loved The Reyes Incident and listening to a full-cast audio book version of the original would help tide me over until Briana writes a sequel. Plus, it would add to the overall accessibility of The Reyes Incident — making it available for just about everyone, no matter what their reading preferences/needs!
If you read this review before Briana Morgan's Kickstarter is over, please consider contributing to it to help support a great horror author.
Images and trailer provided by AJ Spencer via BrianaMorganBooks.com and used solely for review purposes.
A.J. Spencer is an award-winning writer and independent filmmaker from Kentucky. Growing up he was fascinated with the horror genre and constantly rented the Nightmare on Elm Street series on VHS. You can find A.J. Spencer's work on Amazon, including his new novella, This Town Died With You.