When the news broke that Tim Burton would be behind the wheel of a new, exclusive series for Netflix, there was a collective array of excitement across the spooky Interwebs. When we learned it would be a modern adaptation of The Addams Family, told from the lens of one iconically gloomy, precocious, pigtailed teenager, we were ecstatic, excited, and as over-the-moon as goths can possibly be. We may have even smiled!
The rumors, casting excitement, and plot guesses finally came to fruition as Wednesday dropped this past fall, blessing all of us with eight of some of the most perfect episodes of a series, well, ever. And with music by Danny Elfman?! I possibly might have swooned! It's enough to make a girl climb out of her coffin just to binge-watch the best show on Netflix since anything Mike Flanagan has done.
Jenna Ortega IS Wednesday Addams Now!
First, let's talk about casting choices. Jenna Ortega is simply spellbinding as Wednesday Addams, the poster girl for all of us ghouls who grew up hanging around in the cemetery, dreaming of dissections, and torturing our younger siblings.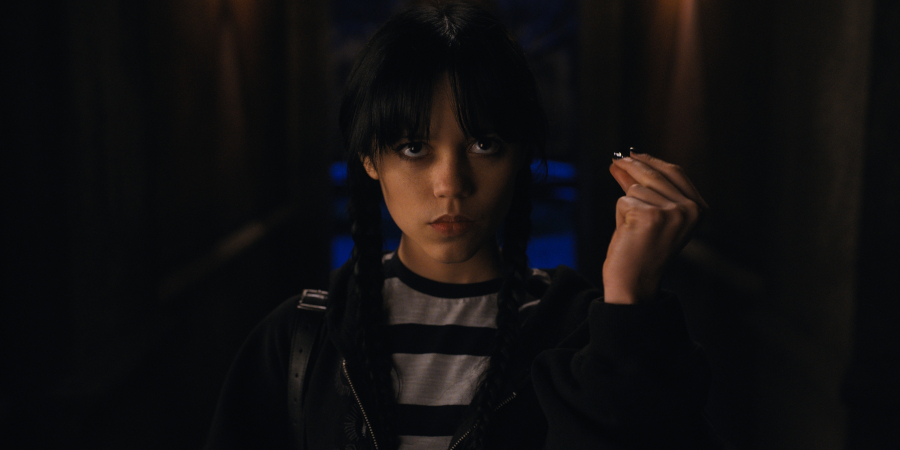 Ortega has come into her own the past few years, garnering praise as the nosy neighbor in season 2 of You, holding her own opposite experienced horror vets in Scream, and lighting up the screen as a young woman discovering her own sexuality in the blood-spattered, '70s-themed horror movie X.
Ortega had my attention, and now, she has my heart. We have seen a couple iterations of this beloved character before, namely in the original series (played to perfection by Lisa Loring) and in the two 1990's films (again, played incomparably by a young Christina Ricci), so I was a little concerned going in that it would be too easy to compare this version to previous incarnations of Wednesday.
However, it was quickly apparent that Ortega found a way to make Wednesday Addams her own (according to Ortega in interviews, Burton liked it when she rarely blinked, adding a layer of dread to the already droll Wednesday), adding her unique touches to this well-loved character.
The tight, snappy writing and quick-moving plot, adorable cast, interesting, engaging characters, and fun setting makes for an abundantly entertaining viewing experience.
The Perfectly Kooky Ensemble of Tim Burton's Wednesday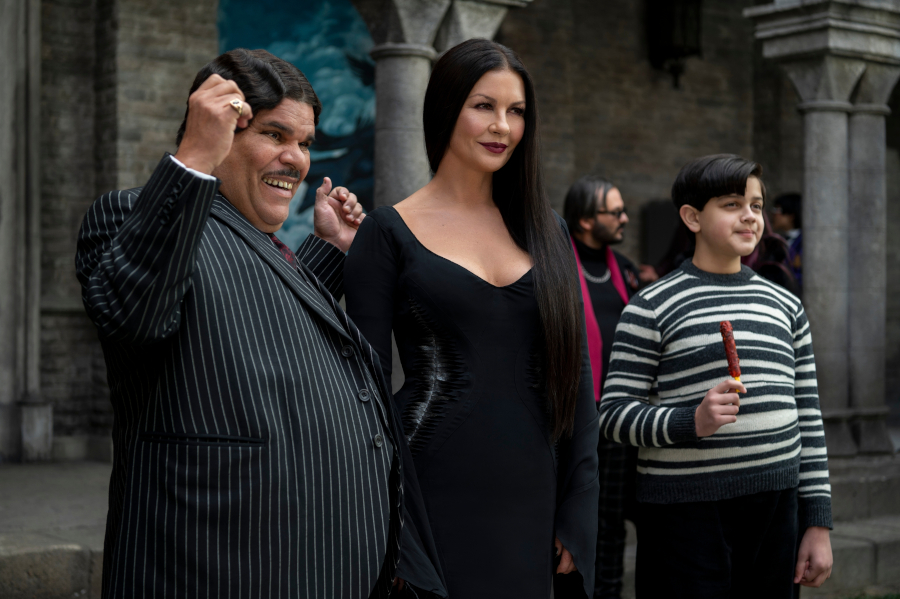 When casting was announced, people seemed surprised to find that well-known actor Luis Guzman had been cast as the amorous patriarch Gomez Addams. I don't know why anyone was surprised, because Guzman is absolutely decadent as the loyal father and lovesick husband. And Catherine Zeta Jones as Morticia — the slinky, sexy, object of her husband's affection? Deadly and delicious!
Pugsley, played by Isaac Ordonez, fits seamlessly into his role, and every time he's on screen, he just steals the scene completely.
Credit should definitely be given to Thing as well, played by Victor Dorobantu (and not just CGI, as many of us initially thought!) in an amazing performance! It's incredible how expressive just a hand can be, and Wednesday's right-hand (ahem) man is a delight throughout the series, giving us all a bit of nostalgia for the old series.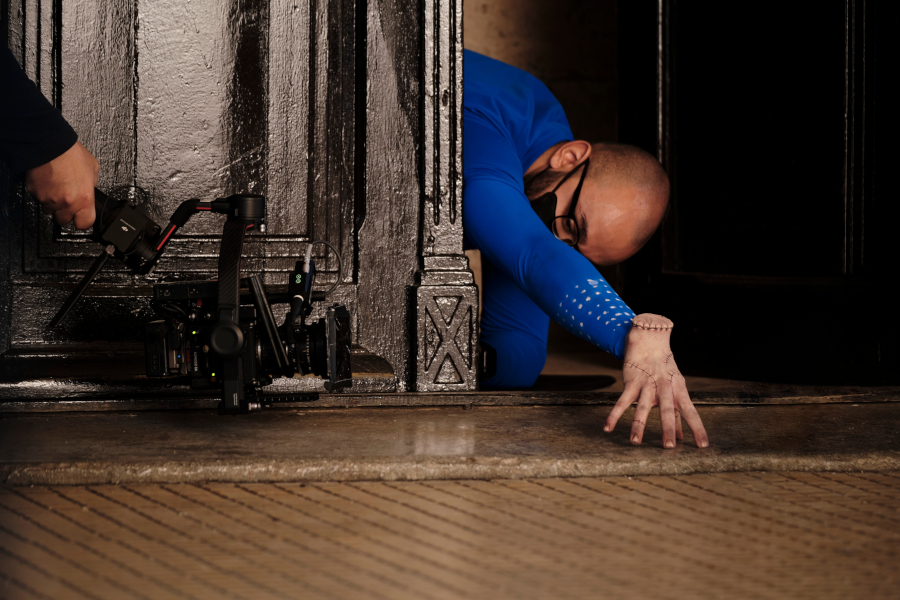 Mysterious and Spooky… And So Much Fun!
Though the mystery of what's going on at Wednesday's new school, Nevermore Academy, is at the heart of the show, there are many layers to the series. Wednesday is coming of age, discovering love, navigating friendships and even working through her rocky relationship with her mom as she comes into her own. It's beautifully done, and the actors are absolute perfection.
I would be remiss to not touch on the viral sensation Ortega has become as Wednesday has rocketed across screens the past few weeks, hitting Netflix numbers and knocking Stranger Things out of the running as most-viewed series in a week. One particular episode, which sees Wednesday and her friends attending a school dance called the Rave'N, has sent viewers into a frenzy.
"Woe What a Night," which features Wednesday showing off her best '80s-tinged Siouxsie and the Banshees moves, has collectively won the ardor of viewers of all ages.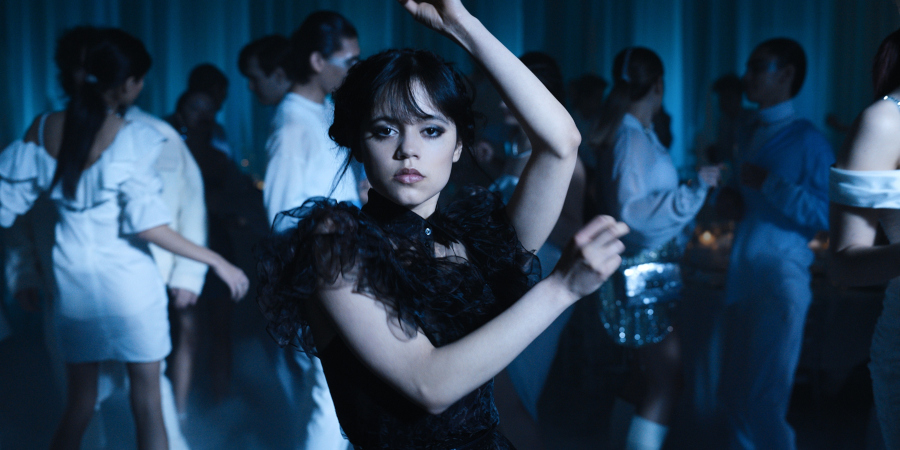 The dour-faced Wednesday, outfitted in a to-die-for tiered black dress that makes her look like a dark, beautiful, fluffy gothic cupcake, gyrates and whirls so awkwardly and adorably that you can't help but smile the entire time. Then, you may find yourself hitting that rewind button again and again! It's addictive and hilarious but mostly just plain cute.
"Goo Goo Muck" by The Cramps is a song I hadn't heard since I dated a skateboarder in middle school, but here, it provides a perfect alt background for Wednesday's shimmying as her classmates look on with a mixture of awe and amusement.
The whole scene gives major vintage vibes, and I love it! Ortega has since admitted she choreographed the entire routine on her own, using old footage of '80s goths dancing in clubs as inspiration (peep her tribute to Loring's moves from the original series, too!)
As our tombstones gather dust while we wait for Netflix to announce a season 2, we'll braid our hair, give two solemn snaps, and pay homage to the best dance moves since Napoleon Dynamite took to the stage in moon boots.
If you haven't hopped the train to Nevermore yet, what are you waiting for? Misery awaits, and you'll love every second of it.
Become a Patron!
Images purchased via MovieStillsDB; used for review purposes.