If you love the dirty, sleazy, sexy, vintage vibe of '70s horror, you'll love X. Directed by Ti West, who helmed such beautifully nostalgic, slow-burn, creepy films like The Innkeepers and House of the Devil (one of my personal favorite films) X has a lot going for it, including fun kills, vibey music, and a sad backstory.
Loving the Cast and the Plot (No Spoilers, Promise!)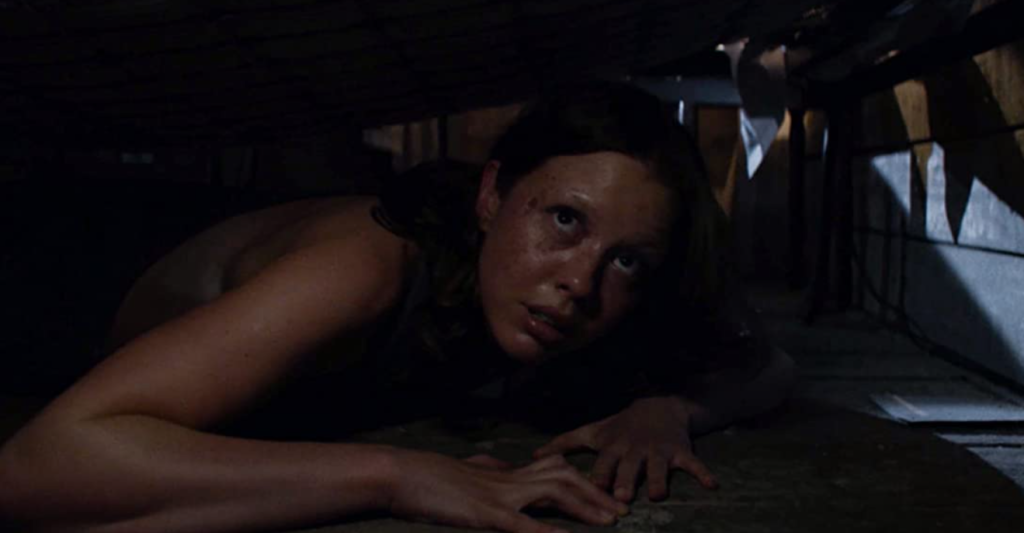 Mia Goth (pulling double-duty in this film – can you guess which other character this chameleon portrays?) sizzles as up-and-coming stripper/adult film star Maxine Minx. Maxine and her fellow film stars hop on a van and head out to what would today be called an Airbnb, but this rental is an understated farmhouse located on some property way out in Texas.
Though the farmhouse isn't much to look at, the scene sets the mood with a big lake out back, horse stables, and all the trappings of a spooky farm, complete with an offbeat elderly couple who run the place.
Packed with talent, the ensemble includes picture-perfect turns from Jenna Ortega (who we'll see next on the small screen as Wednesday Addams) as Lorraine , Brittany Snow (Pitch Perfect, Hairspray) as Bobby-Lynne, rapper Kid Cudi as Jackson Hole, Martin Henderson (Virgin River) as Wayne Gilroy, Owen Campbell as cameraman RJ, and Stephen Ure (Deathgasm, Ash vs Evil Dead) as farmer Howard.
From the get-go, the story swings into motion as this gregarious group prepares to make a porno film that will make them famous in a world where VHS is about to explode. However, though they're filming in a private house, the elderly, seemingly conservative couple don't have a clue what's going on in their farmhouse, and the cast and crew decide it's best to keep them in the dark.
The plot skims forward quickly, wasting no time as kills mount and the mystery and motivations of the killer unravel towards the climax. West pulls off another gorgeous film, beautifully shot with artistic transitions and shimmering colors, inventively captured scenes, and unique choices that make this movie stand out in his catalogue.
Ti West's X Is a Whole Vibe, and I'm Here for It!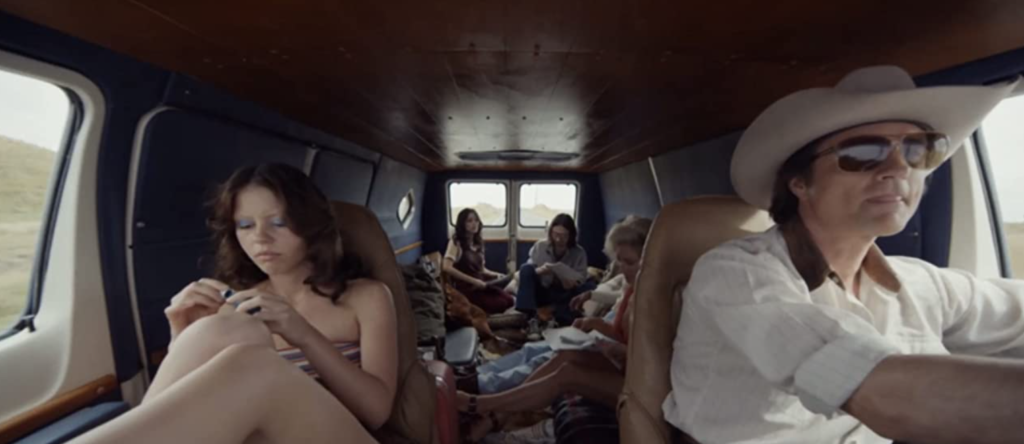 The entire film is bathed in that epic haze of the '70s, the natural sunlight that reflects off the vintage vehicles, wood-paneled walls, and shag carpeting that hallmarked the decade, and makes them magical.
I absolutely adore Ti West's eye and style, and X is very much a West film in that sense. I appreciated the small details that really set the '70s mood and make it feel very grounded in that era, right down to Goth's glaring blue eye shadow. Love!!
The kills are swift and brutal, each one more graphic than the next. My husband, who is not the gore hound that I am, felt compelled to look away during one scene, but I sat there grinning like the horror fiend that I am. This movie exceeds expectations and gives great callbacks to '70s horror classics like Texas Chain Saw Massacre with an original twist that brings it into our modern era with ease.
It's reflective of our horror history but doesn't borrow too heavily – X is very original in that sense. It's a refreshing spin on the slasher trope we all know and love as seen through the eyes of a true artist.
Catch X in Theaters While You Can!
X is clever, grimy, dirty, and surprisingly intellectual. The dialogue is sharp and witty, combining the idea of making porn with a woman's right to enjoy her sexuality as a feminist act. I loved that narrative and the way the characters explained their interest in pursuing this tawdry career path.
The real story here belongs not to the nubile-bodied young people but to their elderly counterparts, and what a story it is. Moments with the older couple seem almost like a hallucinogenic fever dream, and there are some amazing shots happening as you discover more about their past and their present. It's innovative, daring, and gorgeous.
As you can tell, I absolutely loved this film, and upon doing some research for this review, I found an article that stated that a prequel, Pearl, was filmed in secret upon completion of the actual film. I can't wait to see it and whatever else Ti West has in store for us – I'm all in!
X is currently in theaters.
Become a Patron!
Images purchased via CineMaterial or nabbed from the official trailer (above) for review purposes.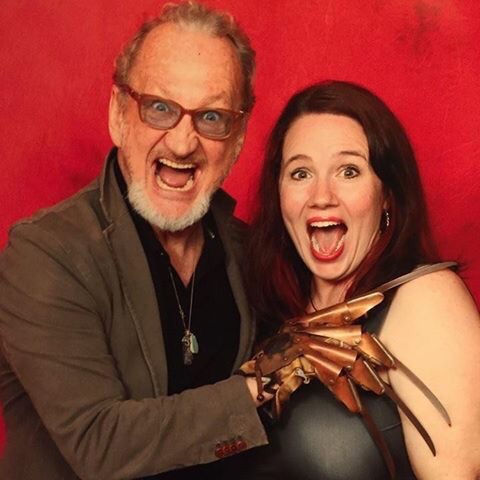 Christi Bandy has been writing and editing professionally since 2010. Her first horror movie, A Nightmare on Elm Street, began her lifelong love of horror. Christi also loves coffee, shopping, reading, tattoos, and Halloween.