After two years of waiting due to Covid cancellations, I finally got to attend Texas Frightmare Weekend, my horror home since 2010. This convention brings some of the biggest names in horror to Dallas each year, including actors, directors, artists, and writers.
This year, among the movies available for screening was A Ghost Waits. When I decide to choose which films to screen over the weekend, I usually do what I did as a kid choosing movies in the video store: I look at the artwork (ha ha).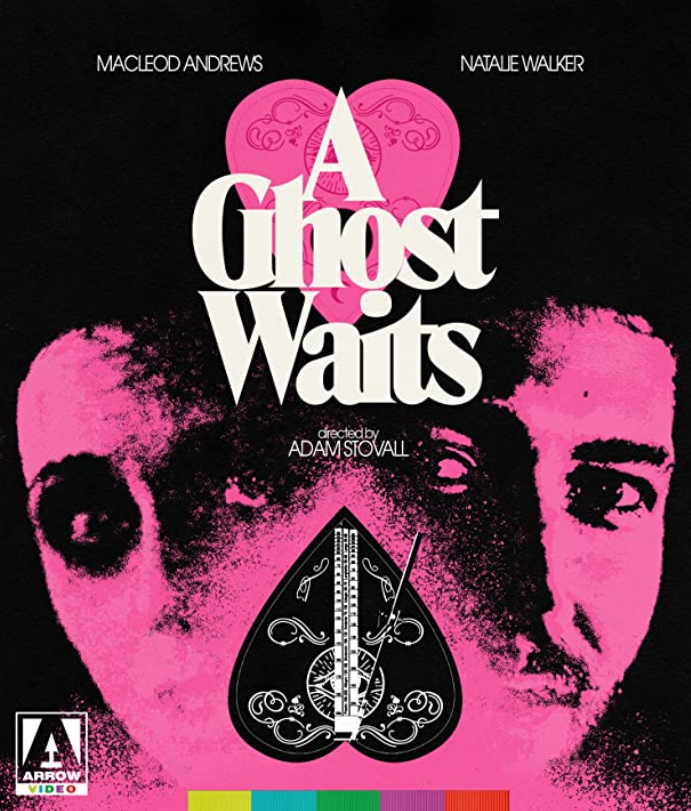 Then, I read the synopsis.
Here's the synopsis I read (attached to contrasting black and pink artwork featuring the two leads' faces as well as planchette designs – SO CUTE!):
"An ingeniously unique and unpredictable combo of horror, humor, and heart, A Ghost Waits is a DIY labor of love years in the making from first-time writer/director Adam Stovall and producer/star MacLeod Andrews.

Tasked with renovating a neglected rental home, handyman Jack (MacLeod Andrews, They Look Like People, Doctor Sleep) quickly finds out why the tenants keep leaving in droves – this house is haunted.

The ghost in question is Muriel (Natalie Walker), herself employed from beyond the veil to keep the home vacant. Against the odds, Jack and Muriel find they have a lot in common…pulse notwithstanding.

Having found a kindred spirit in an otherwise lonely existence, they must fight for their newfound affection as pressure mounts for them each to fulfill their 'cross-purposes.'

From its opening spectral assault to its achingly poignant conclusion as well as a witty depiction of afterlife bureaucracy in the vein of Beetlejuice and A Matter of Life and Death – A Ghost Waits has shocked and surprised audiences around the world, and now it makes its home video debut stacked with insightful bonus features that take you inside the process of creating this phantasmagorical monochromatic marvel."
Sounds good, right? I thought so! The director, Adam Stovall, was also in attendance and would be leading a Q&A after the film. I love watching films with the director present. It's a great opportunity to hear about what they were thinking when they made the film.
Stovall opened the screening by commenting how it took him five years to make the film – it was a true labor of love in so many ways. His passion for the project absolutely had me stoked to see the movie. Anyone who is this excited about their creation is sure to spread that feeling, and I found his enthusiasm contagious!
But Did A Ghost Waits Live Up to Its Director's Enthusiasm? (Spoiler: Yes It Did!)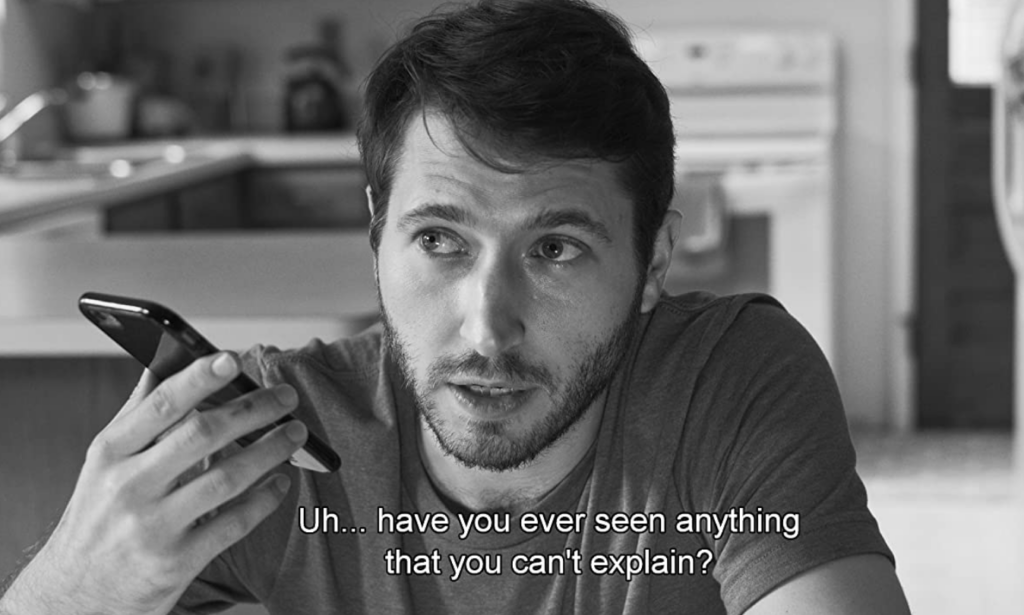 A Ghost Waits is black and white, which Stovall said was a divisive decision, but I can see why he made the artistic choice he did — the film has much more impact this way, and it's beautiful to watch.
Jack, played by MacLeod Andrews, is obviously a bit down about life in general but tries to remain positive. Andrews is great in this role, filling his scenes alone with funny commentary and bits that allow us to get to know Jack a little more, and he's such a likable guy that it's easy to root for him.
Once Muriel comes on the scene to do her job (scare Jack away), the dynamic of the film changes, and she finds to her chagrin that Jack isn't as easily scared off as previous guests.
As Jack realizes the house is indeed truly, honestly haunted, he's more curious than afraid and asks Muriel about her life (er, afterlife) and finds out more than he'd bargained for about the possibilities of what happens after we shuffle off this mortal coil.
Jack proves the perfect friend for Muriel, who has lived her paranormal existence at the behest of her overbearing boss (yes, even after death, those exist!) and never really questioned what she wanted for herself. Jack has also trod his own lonely path and didn't know how to obtain the things he longed for, either.
The two ultimately develop feelings for each other and must figure out how to deal with them. The end of the film is actually something Stovall touched on in the Q&A, as I can see how it was a difficult choice but the best choice for the story to work.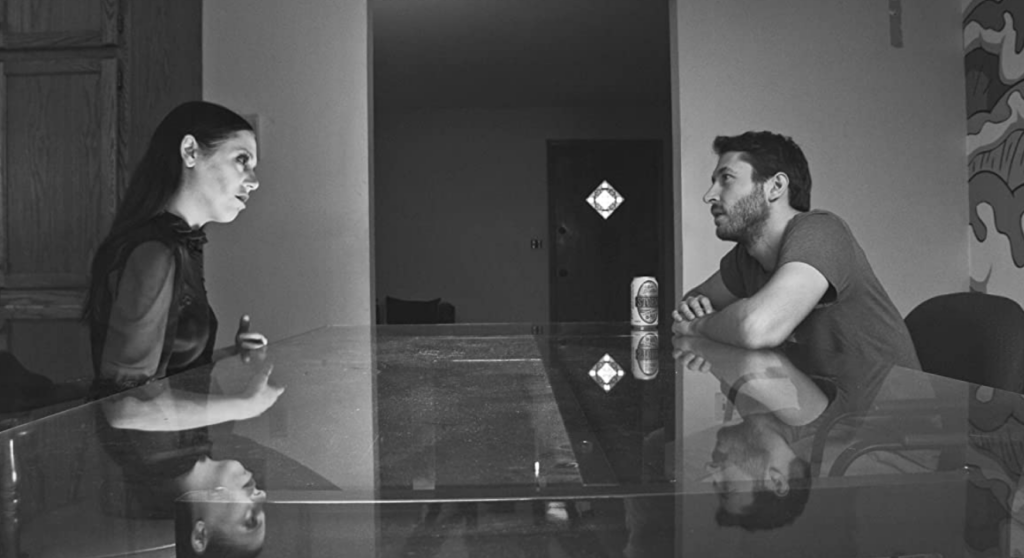 I won't lie, I was shocked by the events that unfolded, but the end leaves you feeling happy and tearful. I rarely cry during horror films, but I did shed a few tears as the credits rolled. Keep in mind that despite some sad scenes, this film is also uplifting.
There are so many things that Stovall got right in this film. The music is used to great effect and, as Stovall explained, very purposefully. The mood is just right. It's that rare, perfect mix of scares and laughs that work so well but few directors can achieve.
You can see the love that Stovall put into A Ghost Waits – it's simply bursting from every word and every scene, and despite the low budget and DIY effects, this movie is an impressive achievement by a first-time director with a huge heart and clear love for the genre.
I definitely recommend not sleeping on A Ghost Waits. It's such a cute, heartfelt, and entertaining story with so much to love. I am very interested to see what Stovall does next. With his clear love of filmmaking and tenacity to follow his dreams, I find him inspirational and refreshing!
Stream A Ghost Waits on Arrow's streaming site or Amazon Prime or buy it on Blu-ray.
###
Become a Patron!
All images from A Ghost Waits featured in Christi Bandy's review came from IMDB and were used for review purposes only.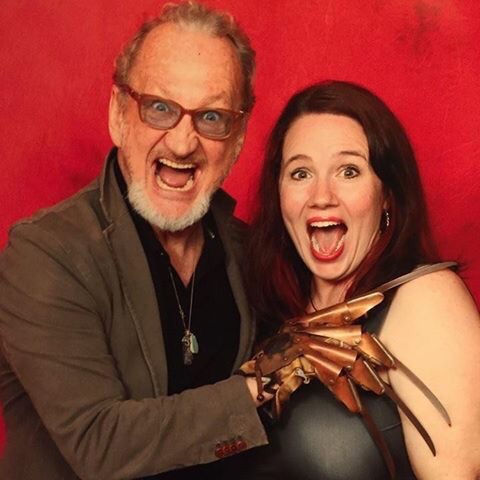 Christi Bandy has been writing and editing professionally since 2010. Her first horror movie, A Nightmare on Elm Street, began her lifelong love of horror. Christi also loves coffee, shopping, reading, tattoos, and Halloween.